Hello 733 readers! I am so excited that Kim asked me to guest post today! She has a great line for this week and I am honored to be part of it!
Let me introduce myself!

I am Fawnda from Fireflies and Jellybeans a little DIY blog that I co-author with my best friend Jeannine.
I am a mom to a 2 year old son (Who is the joy of my life!) I am a part time math tutor for High School math and I LOVE to create!
I love sewing, paper crafts, re-purposing and generally anything crafty!




We have lots of fun things going on at Fireflies and Jellybeans. On Thursday we all get together and show off our stuff at the: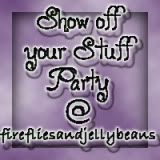 I am also having a Felt-House-Along! I am showing everyone how I made a felt play house! It is not too late to join! Just click on the botton!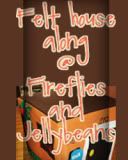 We also have many great tutorials for you to try! Here are some of my favorites!
Kids Art Smock
I have a fun project for you today!
These CUTE chalkboard mugs will be perfect for any party!
They are easy to make! Here is what you will need:
Mugs (either new or ones you already have!)
1. Tape off your mug where you want your chalkboard rectangle to be.
2. Prime you mug in the area you taped off. Let primer dry according to the label.
3. After the primer is dry, paint on your first layer of chalkboard paint. Let dry according to label.
4. Paint on your second coat of chalk board paint. Let dry and cure according to the label.
5. Remove the painter's tape.
6. Rub some chulk all over the area you painted and wipe off to set the chalkboard paint up.
Invite your friend over for some nice warm drinks!
Or you can write the name of the drink on the mug…
Thanks Kim for having me today on:
**Note: these mugs are now HAND wash only***