I thought I would share a little bit about me. My name is Tausha and I am a Sassy Gal!
I want to share a simple, totally do-able craft that will make your house holiday-esqe for sure.
It's supposed to snow tonight. Snow is a good thing, espescially when it comes to my craft room.
Let it snow, let it snow, let it snow!
There is something about the white stuff that gets my craft mojo going
It's fabulous!
How to make your own
ice cream cones.
Really-it's so easy-but the results-sooo cute!!
You need some brown, heavy card stock. You can use a light pattern if you want. I just had solid, so that is what I used.
Glue gun and sticks
white pom-poms (warning: these little poof balls are a little pricey. So make sure to bring your coupon.)
1 1/2 bags per cone-if you use a 3″ ball
Styrofoam ball-I used the 3″
Glitter, ribbon, stickers etc.- if you want t0
OK-now this is where is gets super complicated.
Are you ready?
Glue the pom poms on the Styrofoam ball with your hot glue gun.
If you have a glue gun that gets super hot, it wont work. It just melts the Styrofoam.
You will need 1 1/2 pkgs. of the white poms per cone. I liked the one where I used both sizes in a random pattern-but that is a total personal preference.
Make a cone shape out your paper.
I know that we have all done this before, but for some reason, my brain was having a hard time with this one.
My 8 yr. old had to help me. 🙂
Glue the ball to the cone.
You can do this either before you start the pom poming or during.
I did it both ways-I prefer gluing before.
Easier to be able to see where I needed to put the pom poms.
Cover the ball-and voila!!
You can embellish your cone with ribbon and such if you want to.
I also added some glitter to the top of one-to look like sprinkles and a red pom to look like a cherry.
Really-so cute and so easy.
All of my girls helped me on this. If you do want your kids to help though, you will need multiple glue guns.
I am planning on making more for more tree.
I LOVE them!
They would also be darling to add to a neighbor gift or a teacher gift. Include some ice cream and favorite toppings. Just for something a little different.
Of course-you could add them to your apothecary jars. 🙂
Simple-satisfying and quick.
My kind of craft!!
Thanks again Kim! I had a blast! Don't forget to stop by
You will have a wonderful time. I promise.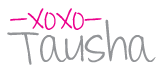 *****
Tausha is such a super sweet, super crafty lady and I'm pretty sure you'll learn a thing or two from her, so head over to her blog and see what she has to offer!